The linear actuators are available in a variety of lengths and with optional potentiometers that are linked to the shaft position, for use in feedback systems. Mounting brackets are available for attaching the actuators to a structure; two are required for each actuator.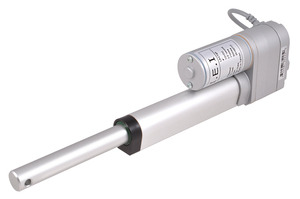 Using the actuator
To test-drive the actuator, simply connect a power source of up to 12 V to the motor leads. Reversing the applied voltage will reverse the direction of motion. A motor controller or motor driver is required for electronic speed and direction control. We recommend our Jrk Motor Controllers for use with the feedback actuators and the Pololu Simple Motor Controller 18v7 for controlling the actuators without feedback, though many of our other motor controllers and motor drivers are capable of powering this actuator.
Dimensional drawings
Diagrams of the linear actuators are shown below. The versions that include potentiometers have a larger gearbox, so their overall size and weight is larger. For more detailed information, including the retracted and extended lengths of each version, see the appropriate datasheet (click the Resources tab above).