Advantages over similar products
Compact layout

User-configurable activation threshold and direction

Safe-start mode to reduce likelihood of unexpected activation

Zener diode for fast current decay on relay coil

Specification of electrical routing clearance rules on relay switch nodes (see user's guide)

Outputs and indicator LED
The RC switch provides feedback about what state it is in via a yellow indicator LED. Status information is also provided on two output pins:
The GOOD pin indicates the presence of a valid RC signal (10–330 Hz pulse rate, 0.5–2.5 ms pulse width).

The OUT pin indicates whether the relay is activated (i.e. the relay coil is energized).
More information about the Pololu RC Switch with Relay can be found in the user's guide.
Warning: This product is not designed to or certified for any particular high-voltage safety standard. Working with voltages above 30 V can be extremely dangerous and should only be attempted by qualified individuals with appropriate equipment and protective gear.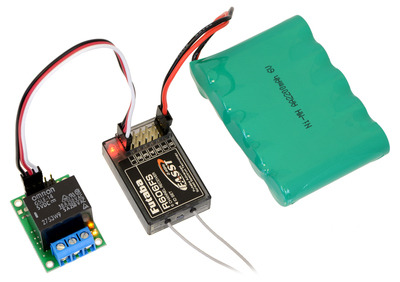 The Pololu RC Switch with Relay connected to a typical RC receiver.
Other RC switches
We offer an RC switch with a digital output for applications that just require a low-current digital signal, and we offer two versions of this switch with integrated MOSFETS instead of a relay: RC switch with a small MOSFET and RC switch with a medium MOSFET (the latter of which also has an integrated voltage regulator) .

The Pololu RC Switch family of products.
People often buy this product together with: